Online Meetings Made Easy
Schedule, Start
or Join a Meeting
Instant
Meetings
No more searching through calendars and emails for a meeting link. The Instant Meeting feature allows participants to join with a shared meeting name. Now you can start a meeting instantly and quickly have people join.
Scheduled
Meetings
Quick Schedule allows you to schedule and start meetings with a predefined set of room and participant permissions. Advanced setup tools give you even more customization options and permissions for your meetings.
Secured
Meetings
Meetings can be secured with a password to enter the room and Meeting Hosts can remove a user from the room and lock the room. Meeting content is secured and kept between the presenter and participants. See the Security section for more detail.
Popular
Apps Supported
Screen Share documents from your computer, OneDrive, Google Drive, and more. Play, Pause or Mute videos from YouTube and Vimeo for a Watch Together experience or collaborate online with apps like Whiteboard.
Content
Orchestration
This unique feature enables presenters to organize their content ahead of time through the Meeting Host Portal. During the meeting, they can then quickly and seamlessly access their content and use it in their presentation.
Management
Console
Meeting Hosts (users with an Aldo login) can manage corporate meeting policies, permissions, add custom start pages, incorporate marketing material and more.
Presentations to Large Audiences Made Simple
Deliver Rich Content with
Superior Audience Experience
One Click
Webinar
Conducting an Aldo Meeting? You can make it into a Webinar with one simple click.
Feature
Rich
Aldo Webinar supports Chat, Questions and Answers and Live Surveys. A participant can Raise Hand and Meeting Host can give permission to participant to speak in a Webinar.
Content
Orchestration
Prepare your presentation materials in advance on the Aldo Cloud. Then quickly access and share your videos, surveys, or files during the webinar with minimal distraction to yourself and other participants attending the webinar.
Webinar
Recordings
Aldo allows you to record webinars, videos, and discussions. You can also transcribe each recording for easy video captioning and added shareability and impact.
Webinar
Playback
Combine recorded webinar videos and Chat with external content to create high impact video presentations using Aldo's easy to use playback authoring capabilities. Comes with pre-defined templates to get you started.
Management
Console
Meeting Hosts (users with an Aldo login) can manage corporate meeting policies, permissions for file sharing, add custom start pages, incorporate marketing material and more.
A Universal Solution to Present from a PC to a TV
Zero Setup to Present
on Meeting Room TV
Present on
TV with Ease
No more HDMI cables, app installations, or USB attachments. All a user needs to start presenting from their computer to a TV is a network connection and web browser.
Instant
Presentations
One can start presenting from a PC to a TV from their browser by simply typing in a Display Name and Pin Code shown on the TV. No need to touch a cable, dongle or remote.
Auto Join
Meeting
A TV Display driven by Aldo Presenter can be invited to a scheduled Aldo meeting. The display will autojoin the meeting without any interaction with the TV.
Use with Your
Present Setup
Aldo Presenter runs on any device with a Chrome Browser, be it a PC, Mac, or a NUC running Linux. For a Device or Display running Android OS, there is an App in Play Store.
Setup and Use
in Under 5 mins
For a PC with a browser, enter a provided URL. For Android devices, install the app and enter the License key. That's it, system is ready for receiving a presentation.
Multiple Display
Support
You can setup Presenter displays to show People (on camera) on one screen and a presentation on another. Dual Display delivers an immersive meeting experience.
Easy to Setup. Runs on Any Device with a Browser or Android
Easy to Use and Seamlessly
Integrated with Aldo Presenter
Cloud Based
Solution with
Client App
No onsite server(s) required. Aldo Signage, running on AWS Cloud platform, allows you to design and publish your signage content from anywhere, via your browser.
Screen Layout,
Content Insertion,
Play List & CMS
With the Aldo Signage application, you can partition the TV screen into multiple regions and add content from the CMS or Web to build a playlist. Then schedule and publish your project for playback on one or more TV displays.
Extensive Support
for Content and
Widgets
Aldo Signage offers the industrie's most comprehensive support for playing back different types of content from different sources and comes with a collection of popular widgets.
Advance Features:
Touch, Motion and
Video Calling
Aldo Signage supports Touch for interactive Kiosk and One-Touch audio or video calls. Support for Motion Sensing enables event driven content displayed on the TV. Deploy all these features without writing any code.
Publish Content
& Manage
Displays
The Aldo Manage application makes it easy to create users, deploy signage displays remotely, publish content and monitor running signage projects from anywhere.
Enterprise
Class, Yet Easy
to Deploy and Use
Aldo Signage applications run on Amazon Cloud and use modern web technologies for design, deployment, and management of large Display networks. Enterprise edition provides capabilities to setup displays and managing users with greater ease.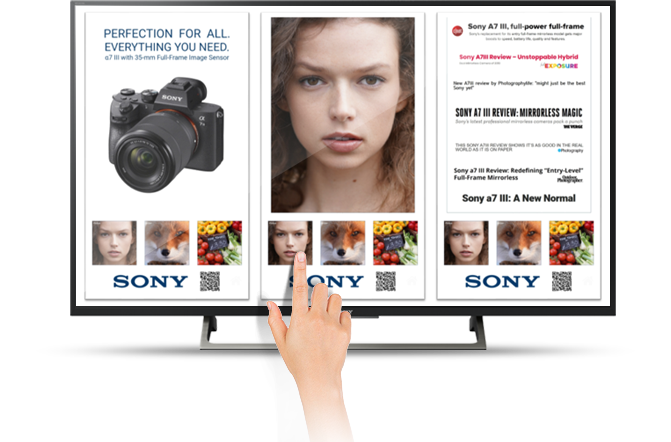 Product Ad & Information Kiosk
with Interactive Touch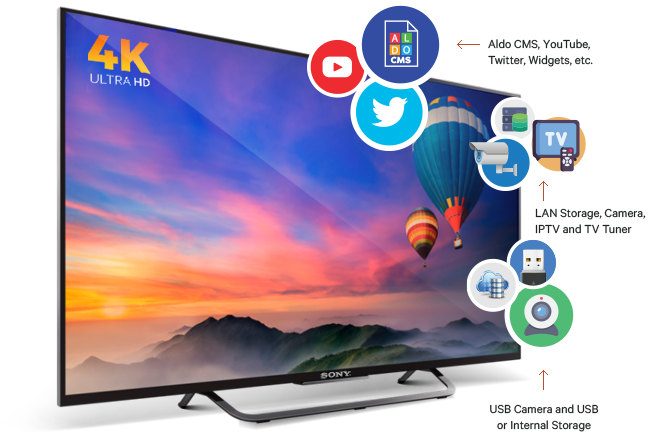 iDS Content Sources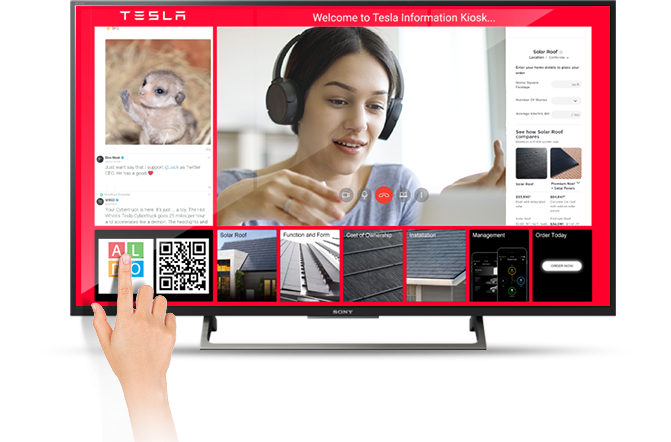 Aldo Signage incorporates Aldo Calling, enabling
One Touch Video Call from a TV Kiosk or Tablet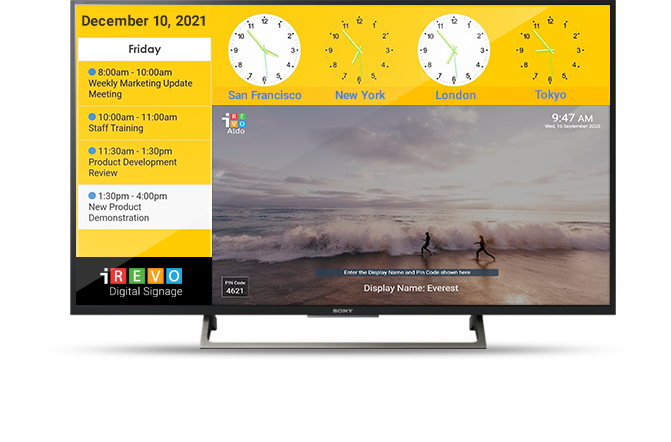 Aldo Signage incorporates Aldo Presenter, enabling
Display Meeting Room Schedules and Information.
Embed Web Communication in Enterprise Applications
Deploy Enterprise Broadcast Network or Build Custom Workflow in Enterprise Apps
Embed Web
Communication
Embed audio/video calling, chat, file sharing and screen sharing in your enterprise applications to build custom workflow. You choose the features to include.
Aldo with iRevo
Digital Signage
Deploy TV, Tablets or Laptop Based Product Information Kiosks with One Touch A/V Calling to Remote Product Specialist, Retail Store Use Case.
Deploy Enterprise
Broadcast Network
Broadcast All Hands Meetings, Stored or Live Information and Key Performances Indexes from Enterprise Apps. Deliver the Right Content, at the Right Place at the Right Time.
Deliver Effective
Communication
Aggregate Information, Data and Content From Multiple Sources and Broadcast to the Right Audience, at the Right Time, at the Right Place, On All Displays.
Better Support &
Higher Satisfaction
Support Agent Can Enable A/V Calling, File and Screen Sharing to Help Resolve Issues With Efficiency and Higher Customer Satisfaction.
Easy to Deploy &
Cost Effective
Deploying Aldo with iDS Requires No Software Development. Embedding Aldo in ERP Apps & Websites is Easier than uCaaS API Integration.
Conduct meetings, webinars and presentations with ease
and deliver a superior experience to presenters and participants.
– Purvank
Lorem ipsum dolor sit amet, consectetur adipiscing
elit, sed do eiusmod tempor incididunt ut labore et
dolore magna aliqua. Lorem ipsum dolor sit amet,
consectetur adipiscing elit,
- Purvank
Technical Support Manager
– Hiren
Lorem ipsum dolor sit amet, consectetur adipiscing
elit, sed do eiusmod tempor incididunt ut labore et
dolore magna aliqua. Lorem ipsum dolor sit amet,
consectetur adipiscing elit,
- Hiren
Technical Support Manager